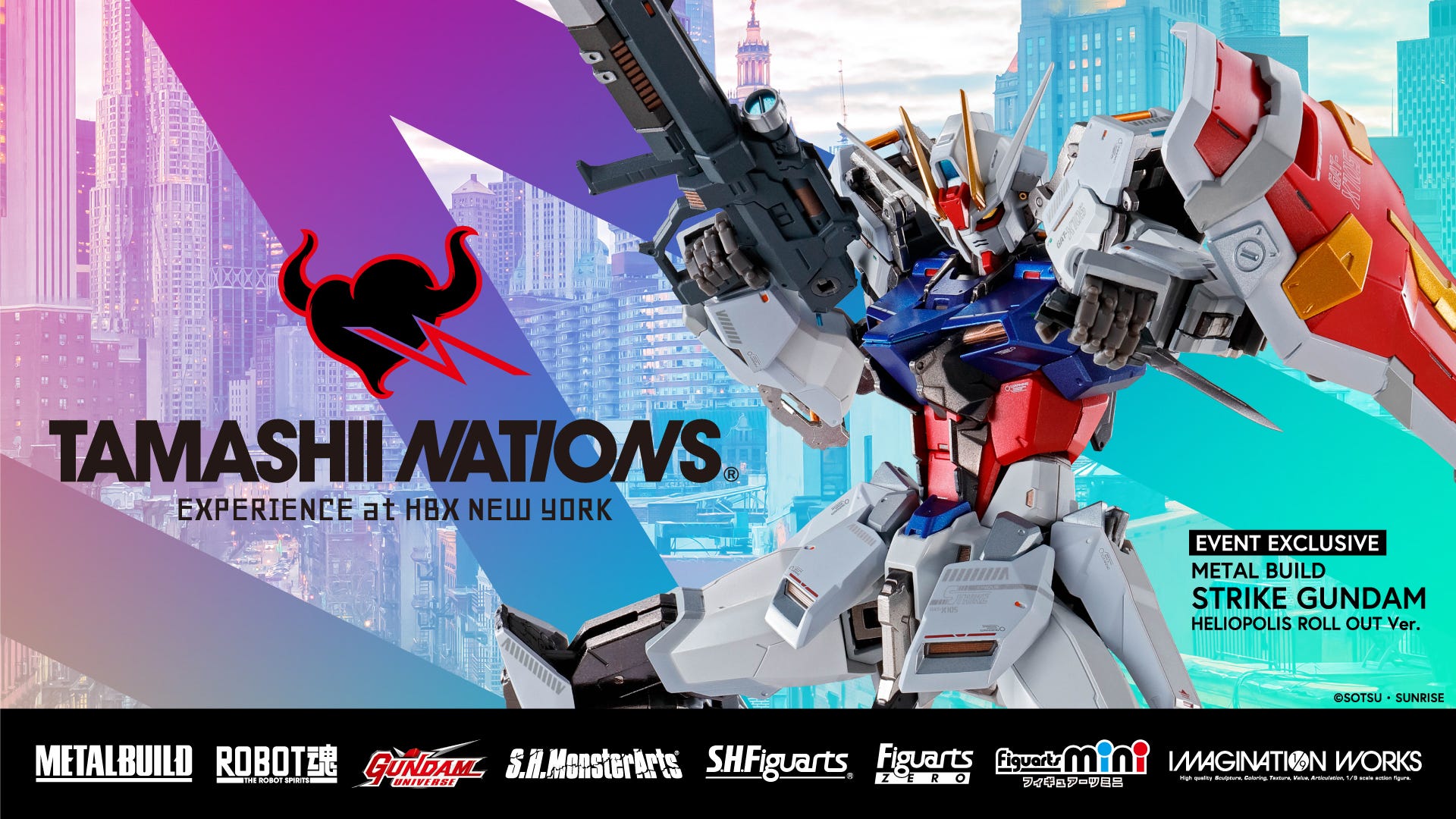 "All aboard the hype train for a fun and unique shopping experience featuring incredible displays, exclusive items, and products never before available in North America through March 2, 2023."
IRVINE, Calif., Feb. 10, 2023 - In just a few short weeks TAMASHII NATIONS will be headed to New York, NY for a limited time to bring fans an unparalleled shopping experience. Here customers will be able to purchase Event Exclusives, as well as items only available at the Tamashii Nations Tokyo Store located in Japan. All your favorite product lines will be available (while supplies last) including S.H.Figuarts, FiguartsZERO, Figuarts mini, METAL BUILD, THE ROBOT SPIRITS and more. Additionally, fans will get to see new and upcoming products on display that have yet to be released!

TAMASHII NATIONS SHOWCASES AN UNPARALLELED EXPERIENCE AT HBX NEW YORK FOR A LIMITED TIME STARTING FEBRUARY 23, 2023 (CNW Group/Bandai Namco Toys & Collectibles America Inc.)
TAMASHII NATIONS STORE TOKYO Exclusives Available at HBX New York:
METAL BUILD Strike Gundam -Heliopolis Roll Out Ver.
THE ROBOT SPIRITS RX-78-3 G-3 Gundam ver. A.N.I.M.E. Real Marking
THE ROBOT SPIRITS MS-09RS Rick Dom Char's Custom Model ver. A.N.I.M.E. Real Marking
THE ROBOT SPIRITS EVA-01 Test Type [Best Selection]
S.H.Figuarts Kamen Rider Zero-One Rising Hopper [Best Selection]
S.H.Figuarts Ultraman Z [Best Selection]

TAMASHII NATIONS Event Exclusives Available at HBX New York:
FiguartsZERO [EXTRA BATTLE] Monkey.D.Luffy -GEAR 4 LEO BAZOOKA- [SPECIAL COLOR EDITION]
FiguartsZERO [EXTRA BATTLE] Charlotte Katakuri -MOCHI TSUKI- [SPECIAL COLOR EDITION]
For a complete look at the exclusives available at HBX, visit Tamashii Nations Official website here.
Official Dates & Time
What: TAMASHII NATIONS EXPERIENCE at HBX NEW YORK
Where: 41 Division St, New York, NY 10002
When: February 23 – March 2, 2023
Open Time: Monday to Saturday 11am – 7pm, Sunday 12pm – 6pm
For more information and the latest updates regarding the TAMASHII NATIONS EXPERIENCE at HBX NEW YORK, please visit tamashiiweb.com.
---
About TAMASHII NATIONS
TAMASHII NATIONS is a collection of high-quality figure brands assembled under the Bandai Spirits banner. Two of its most notable names are the Chogokin and S.H.Figuarts series, which feature a wide variety of characters from tokusatsu, anime, and robot IPs. The master craftsmen of TAMASHII NATIONS make sure to instill soul—tamashii—into every product they release worldwide.
About HBX
Established in 2012, HBX is a global e-commerce platform and retail destination carrying over 250 curated brands from both established and up-and-coming menswear, womenswear and lifestyle labels. HBX focuses on delivering the latest, trend-setting fashion, accessories, footwear, home and lifestyle goods, and toys and collectibles, to its customers, curating a truly global and exciting assortment at the leading edge of culture. Servicing over 80 markets worldwide, HBX is available in five languages on hbx.com and the HBX App, has retail flagship stores in Hong Kong and New York, and also boasts a very active digital community on Instagram, Facebook, Twitter, LINE, WeChat, RED, Kakao, and more.
About HBX New York
Spanning two levels in the heart of Chinatown, the first-ever HBX flagship in the United States brings together community and culture through Hypebeast's sharp curation of a diversity of fashion designers, brands, and experiences. A unique multi-functional space on the ground floor showcases a rotation of brand activations and exhibitions. It is also home to the first Hypebeans in the States, a communal destination meant to inspire creativity and connection over a cup of the highest-quality coffee. Extending to the second floor is a showcase of thoughtfully curated edits of brands, including Acronym, KidSuper, Entire Studios, And Wander, Nanamica, Brain Dead, Nike, Stone Island, Needles, Maison Margiela, Dime, New Balance, Mastermind, Mugler, ERL, Thom Browne, Dries Van Noten, Jil Sander, Lemaire, Acne Studios, and Salomon, as well as multiple installation spaces.